National Parks:
From Sea to Shining Sea
Join us as we explore five different national parks, extraordinary natural places full of opportunities for nature study and adventure. We'll uncover fascinating stories about America's first national park, the father of our national parks, and what park is famous for mountain goats! Discover these details and more about our national treasures as we learn about their plants and animals, outdoor activities, and famous naturalists in this adventure filled week.
Registration
Online registration is the preferred registration method. Please click the reserve now button to register. Pre-registration is required for your child to attend, and one-half of the total registration fee is needed to hold your child's space. Museum programs fill quickly, so please register early.
Please note our registration policies:
All registrants must pay in advance.

Registrations are accepted on a first come, first served basis.

Telephone registrations cannot be accepted.
To register your child or children for this program, please submit one form per child using one of the following methods:
​
Register by Mail
Mail completed registration form(s) and payment to:
​
Brazos Valley Museum of Natural History
Attn: Spring Mini Camp
3232 Briarcrest Drive
Bryan, Texas 77802
​
Register by Fax
Fax this form to the Museum at (979) 774-0252. A check must be received at the above address within five (5) working days either by mail or in person or your child's reservation will be cancelled.
Camp Prices
Members:
$45 per camp day (plus a 5% Registration Fee)
Non-Members:
$50 per camp day (plus a 5% Registration Fee)
​
All registrants must pay in advance. Registrations accepted on a first come, first served basis.
Additional Discounts
Full Session Discount: $10 discount offered for registration of all 5 sessions
Sibling Discount: $2 per session discount offered for each additional child
Refund Policy
Refunds are not available unless a replacement camper is located to fill the vacancy.
Spring Mini Camp: Frequently asked questions
Apa itu waitlist challenge?
---
Sebuah periode di mana kamu berkesempatan untuk mendapatkan akses eksklusif lebih cepat ke aplikasi Nanovest, dan juga mendapatkan rewards yang menarik! Kamu bisa menang 100.000 NanoByte Token (NBT) dalam periode ini. Kunjungi nanobytetoken.io untuk pelajari lebih lanjut mengenai NBT.
---
Apa itu NanoByte Token (NBT)?
---
NBT adalah crypto token dari Nanovest. Kamu bisa dapetin NBT dengan download Nanovest & ikutan waitlist challenge. Selain itu, kamu juga bisa dapet NBT dengan ngelakuin berbagai aktivitas dan transaksi setelah kamu dapat full access ke semua fitur di Nanovest.
---
Kapan saya bisa mulai investasi saham & aset kripto di Nanovest?
---
Saat ini, aplikasi Nanovest sedang dalam rilis terbatas. Kamu bisa mulai investasi setelah kamu dirilis dari waitlist. Kami akan memulai proses rilis pada 10 Desember 2021. Semakin tinggi posisimu di waitlist challenge, semakin cepat kamu dirilis & bisa menikmati seluruh fitur di Nanovest! Ayo download Nanovest & join waitlist sekarang dan jadilah yang pertama untuk nikmati semua fiturnya!
---
Apa itu Nanovest?
---
Nanovest adalah aplikasi investasi revolusioner di Indonesia. Di sini, kamu bisa investasi saham luar negeri & aset kripto dalam satu aplikasi, pertama di Indonesia. Selain itu, kamu bisa transfer uang gratis ke siapa pun & kapan pun! Semua investasi di Nanovest mulai dari Rp 5ribu aja, bebas biaya transaksi, dan tentunya gampang banget. Kamu juga bisa dapetin berbagai hadiah menarik, mulai dari uang, aset kripto, dan masih banyak lagi. Jadi, yuk download Nanovest & ikutan waitlist sekarang!
---
Sampai kapan waitlist challenge akan berlangsung?
---
Waitlist challenge dimulai pada 22 November 2021 dan akan berakhir pada 10 Desember 2021.
---
Apa yang terjadi ketika saya masih berada di dalam waitlist?
---
Kami berusaha keras untuk menghadirkan Nanovest secepatnya kepada kamu. Kami akan merilis semua user secepat mungkin, dan tentu saja kamu akan diberi tahu jika sudah dirilis! Penasaran dengan aplikasi Nanovest? Yuk, intip lebih lanjut di bagian "News" di halaman Utama aplikasi Nanovest
---
Bagaimana cara kerja waitlist challenge?
---
Setelah kamu daftar ke Nanovest, kamu bisa lihat posisimu di waitlist / daftar tunggu. Ajak teman ke Nanovest sebanyak-banyaknya pake kode referral kamu. Saat temanmu daftar ke Nanovest pake kode referralmu, posisimu di waitlist akan naik. Kamu dan temanmu juga akan dapat masing-masing 20 NBT.
Selain itu, kamu juga bisa menang 100.000 NBT tergantung dengan posisimu di akhir periode waitlist challenge (lihat tabel di bawah):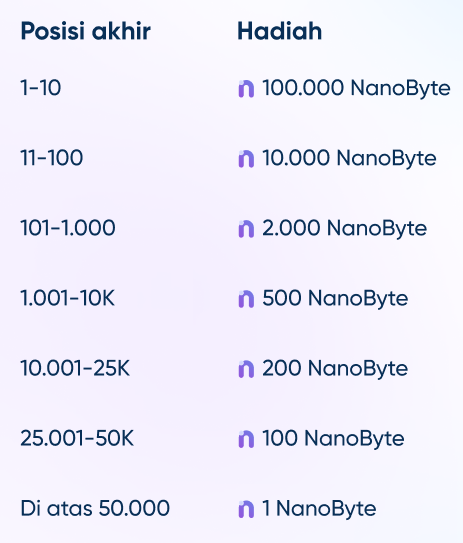 ---
---